Custom Home Design Guide: Colorado Springs, Monument, & Black Forest
---
How to design a custom home in Colorado | An Elk Ridge Custom Homes design guide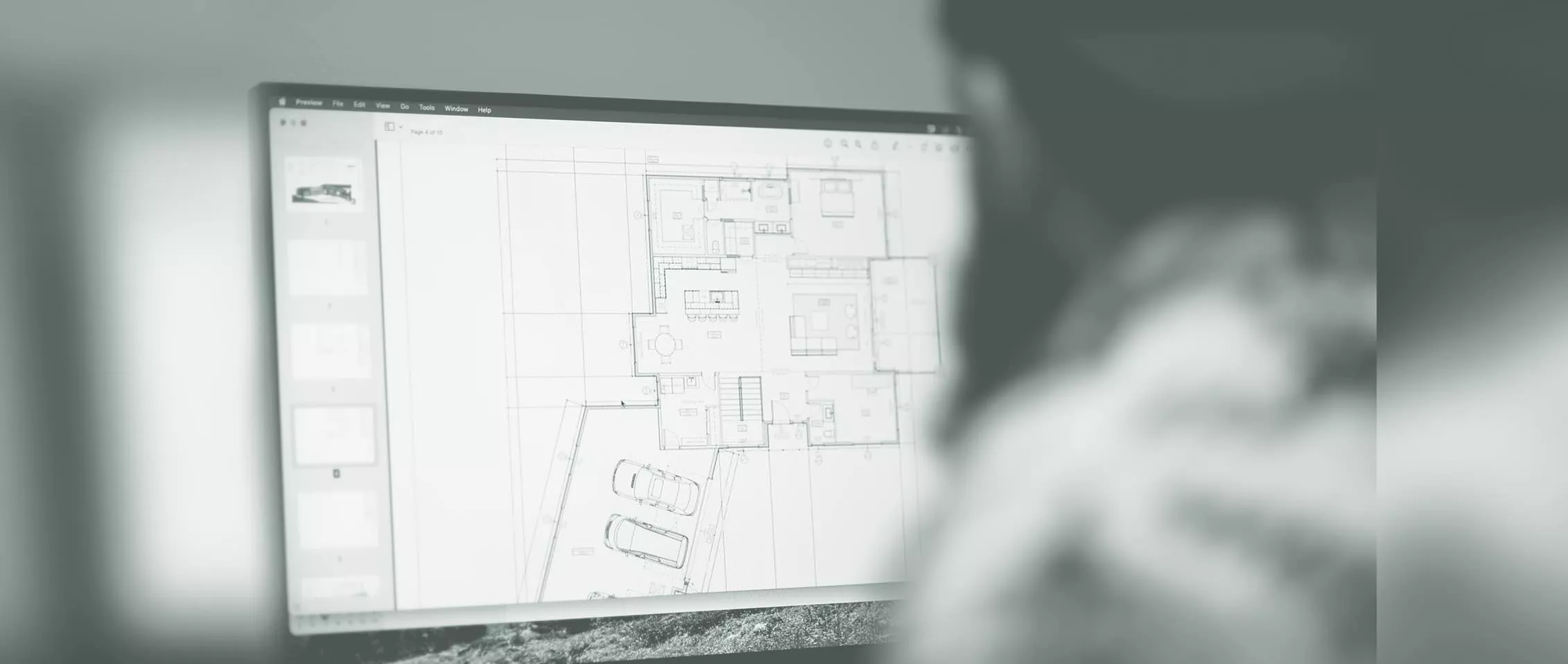 Our design process starts with your land. One of the most important considerations when designing a custom home (especially in Colorado) is the views and/or land features… specifically what areas of the home will face those views or features and how the home will interact with the lot's grade. This is why we will not design a home without a lot chosen first. Once we determine the areas of the home that will face the view corridor, we can begin designing out the layout of the home.
Note: if you already have a pre-designed set of plans, we will work with you to optimize and bring the best out of it.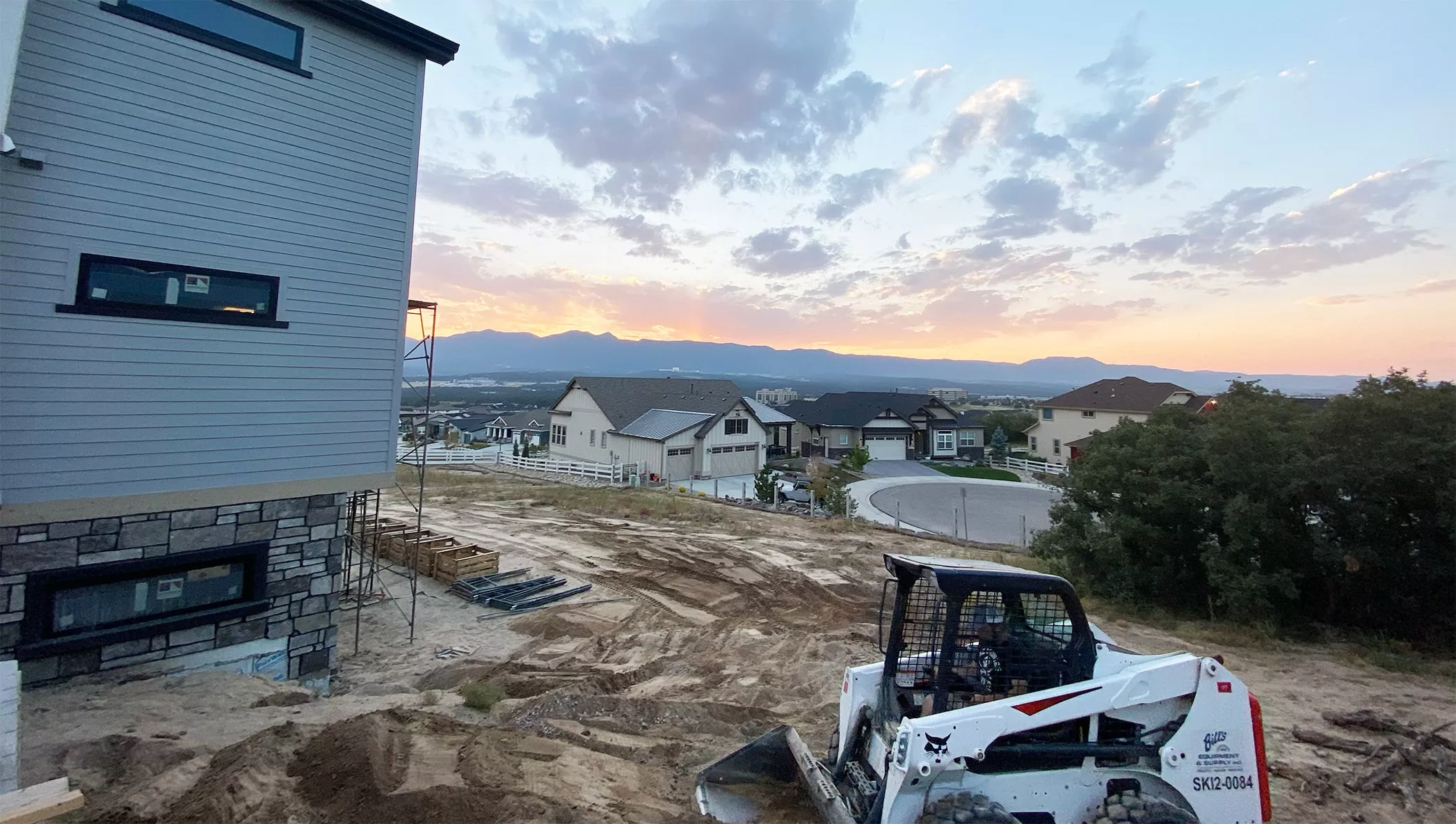 The next thing to determine is the number of levels the home will have.
Will you want a 2 story (main level + 1 upper level), a 2 story with a basement (main level + 1 upper level & 1 lower level), a rancher (1 level), or a rancher with a basement (main level + 1 lower level).
Once you determine that, it is time to decide which rooms go where… Will you want the primary bedroom close to other bedrooms or on the opposite end of the house? Will you want a guest bedroom in the basement away from any other bedroom? Will you have a home office in a quiet corner of the home or a tech room for homework within ear shot of the kitchen? Will you want a basement rec room and a separate theater room? Once we get all of that sorted out, it's time to figure room sizes and layouts.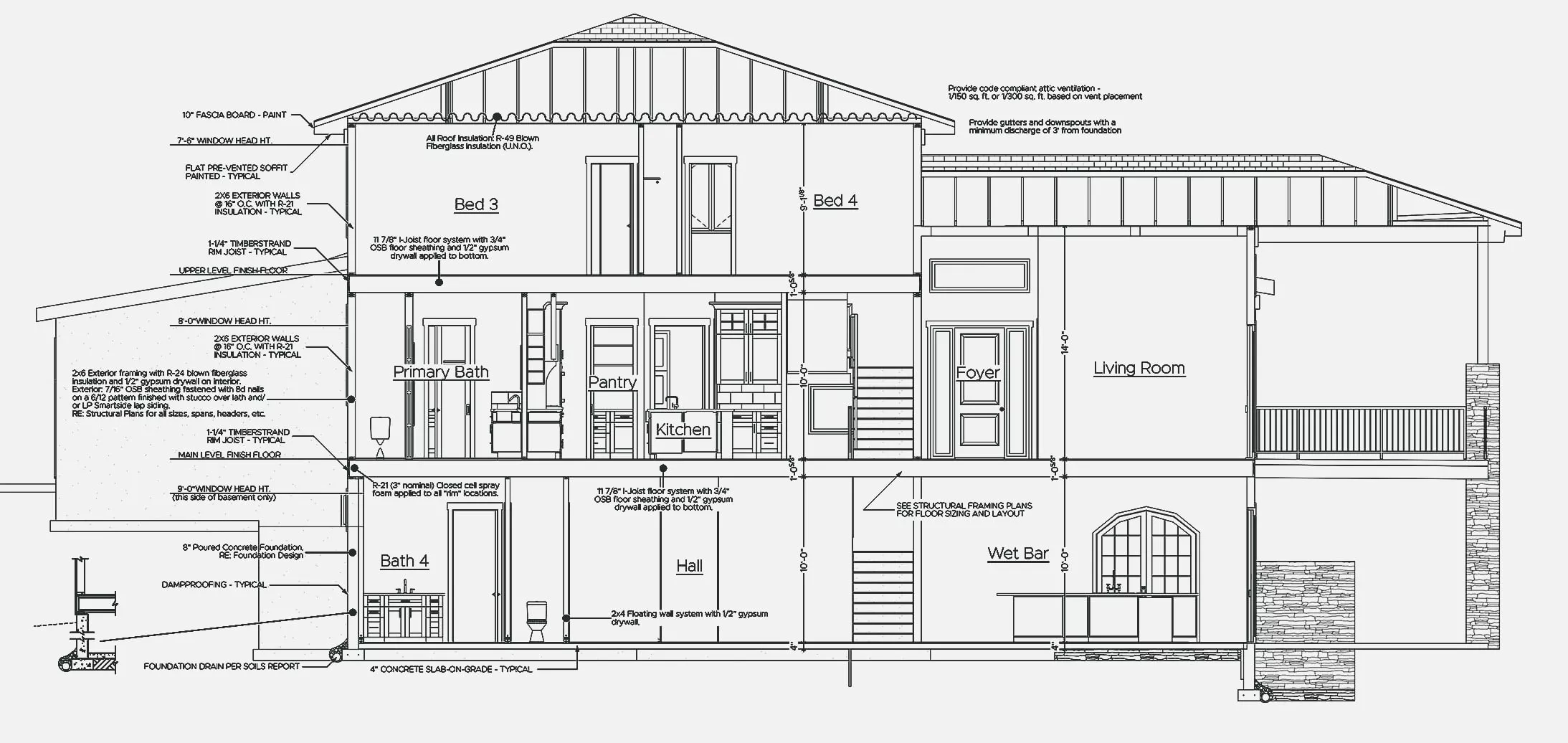 "Section" view on floor plans.
One of the best things about designing a custom home is being able to design rooms to your exact taste and furniture sizes, placement, and layout. Most of us have lived in homes that got some things right and some things completely wrong for us, so we want to make sure we get it right on this house. With modern architecture software we can model your exact furniture sizes and shapes to ensure everything will fit and feel right. Once we get the room sizes and layouts ironed out it's on to style specific features, but first we need to pick a style.

If you are into home design or have watched some HGTV you are probably familiar with different home styles (like farmhouse, modern, prairie, craftsman, etc.). Thanks to modern production home designers many of the lines of distinction between eras and styles of homes have been blurred to the point where most non-custom homes have identical interior features, and the only distinction of style is on the exterior with the rooflines and siding. You do not have to go "all in" on a style to have a tasteful and correct design, but there are some distinct aesthetic elements in every style of home that should be considered when designing a home to get it right.

It is time to determine what style (or combination of styles) your home will be (we design many homes with a combination of two styles, like modern-farmhouse, rustic-craftsman, mountain-modern, etc.). Unless you are trying to build an era or style accurate reproduction home, you can take the specific elements you like about a style and apply them to a home with modern comforts without disrespecting the design. For instance, even though a 1900 farmhouse might have 8' ceilings throughout, a kitchen that is separate from the living room, and a formal dining room, it is completely acceptable to design a house with 10' ceilings and an open concept living area in the farmhouse style. We have seen this done well and we have seen it done poorly, so this is where it is important for your designer's skills to be top shelf, or you might end up with some design faux pas. Once you have the overall style chosen, it's onto style specific details.
What elements are style specific?
Almost every element in a home will either add to, take away from, or be neutral in achieving a design style. Here is a list of elements that can either support or detract from the design style:
Exterior:
Cladding – stucco, stone, siding, and/or trim choices.
Windows – colors and/or grids.
Colors – style specific palettes.
Railings and Posts – styles, materials, and colors.
Garage doors – style and color.
Entry door – style and color.
Lighting fixtures – style and color.
Interior:
Walls – drywall finish/texture type.
Interior doors and trim – style and color.
Hardware – style and color.
Lighting fixtures – style and color.
Plumbing fixtures – style and color.
Cabinets – style and color.
Flooring – style, type, and color (specifically hard surfaces).
Paint & other wall finishes – style specific color palettes.
Wall tile – style, type, and color.
Fireplace – cladding, mantle, and hearth.
Countertops – Can be neutral but some styles lend more to certain types and colors of stone.
Built-ins – location, style, color, and layout/function.
These elements can be considered "style neutral" (though not always):
Exterior:
Decking material.
Landscaping.
Concrete and walkways.
Interior:
Carpet pattern.
Countertop material.
Toilets.
Ceiling heights and special details.
Fireplace type (gas, electric, woodburning).
Laundry room features.
Sizes, layouts, and shapes of rooms.
The difference between an acceptable and an exceptional design is getting all the details right. We have developed style-specific collections for every type of finish element and fixture that goes into or onto our homes to help our clients stay in the correct lane as they select the products for their custom home. If you get all these things correct, you are on the way to having an excellently designed custom home, but there is one more element that can't be overlooked if you want to LOVE your home…
Phil's philosophy of design: Don't forget about mental health!
Loads of natural light
To get this right you need to go a little overboard on the number and size of windows in your home. This includes bedrooms and bathrooms as well as main living spaces and the kitchen. In my opinion, you almost can't overdo this. It is not uncommon for us to have an 8'x5' window in a kid's bedroom and two or three large windows in a primary bedroom. Yes, you also need furniture, so you need to carefully plan sill heights but the feeling you get from the airiness is absolutely worth it!
Happy colors
I am a color nerd! I vacillate over the slightest nuances in different tones and light reflective values… because the smallest differences matter for the feeling you get from being in a room with a drab color and a very similar "happy color". Color Psychology is currently a hot topic in the interior design world and the conversations typically delve into how different color families invoke certain emotions but often don't get into the minutia of how tiny hue adjustments can take a color from gloomy to vibrant. This minor change can mean the difference of feeling tired or grim in your home to feeling energized and peaceful, so getting this right is super important! Thankfully companies like Benjamin Moore and Sherwin Williams have curated color collections based on moods that can aid you in your color decisions.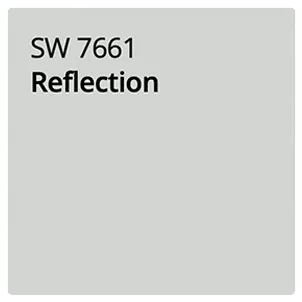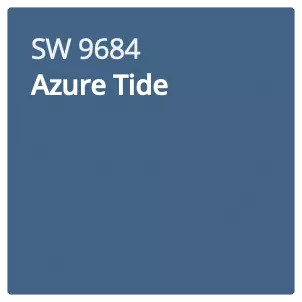 Sherwin Williams color swatches.
One more obscure nuance that is often overlooked in the color realm is the color temperature of the lights/lightbulbs and the mood they set in your home at night. With everything going LED it is easy to choose what color your lights emanate. This may seem like a minor issue, but trust me, it makes a huge difference! If you go with 2700K lighting everything in your home will look dull and yellow, whereas going with 6000K will make everything look purple and sterile. If your home has white and gray wall colors, you will want to stay away from anything below 3500K or your home will take on a totally different personality at night. If you have warm toned paint, you will want to stay below 5000K or the light color and wall colors will fight each other. We have found that 3500K and 4000K are the best overall light temperatures for feeling bright and happy without feeling like hospital lighting. To make your home feel cohesive, it is a good idea to have the same color temperature throughout the home and on the exterior lighting as well.

Room sizes and ceiling heights
We are firm believers in the "bigger isn't always better" philosophy of home design, though "feeling bigger" is always a good thing. This is especially important as building materials are at an all-time high, so designing smaller homes has become a necessity to keep budgets on track. We have become very good at designing spaces that live a lot bigger than the square footage says they are, through smart layout/use of the space and generous ceiling heights. A room's size and spaciousness play a big role in how a space feels, which is why we model actual furniture pieces and pre-plan furniture layouts as part of our design process. The paths you use to walk around and through furnishings are as important as the functional spaces themselves when it comes to the "feel" of the space… this applies to hallways as well. We try to use at least a 4' walkway around all furniture and in hallways to help everything feel spacious. The other major factor in a space feeling big is the ceiling height. We typically use 10' ceiling heights in our basements and main levels and a 9' ceiling height in upper levels, with vaulted and tray ceilings in areas we want a little more airiness.
Let's talk "trends" and interior design.
If you are looking to build your dream home it is important to understand that trends come and go, and some quicker than others. We do not believe in following trends for the sake of following trends unless you want to remodel your home every few years. There is nothing wrong with designing your home within the current "in" look but the important thing to ask yourself is "do you love it?" and are you ok with living with it if some new trend comes along and everyone says the thing you love is outdated? Also, no matter how popular a trend is, you are the one who is going to have to live with it, so don't make a design decision that looks pretty but will be a nightmare to maintain with your family rhythms. *We have installed black hardwood floors (under protest from us) for a client that had to have that look, and they hate them because every speck of dust and dog hair is visible from space on that floor, but that was the trendy thing at the time.
We have a practical approach to designing steps and helping our clients avoid design traps and mistakes. To create a cohesive and stylish home that reflects their individual style, we have them pour through photos of homes in the style we are designing on Houzz, Pinterest, Instagram (designers' pages), etc. and save the ones that make them happy. Then we work to figure out what about those pictures makes them happy to formulate their individual "style". From there we measure every design choice against our six principals of a good design.
Balance
Unity and Cohesiveness
Proportion and Scale
Flow
Focus and Focal Point
Contrast
If you get the natural light, colors, big feeling spaces, and interior design right, you will have the recipe for a home that feels amazing that you will never want to leave!
We hope this guide was helpful and informative. Happy designing!
Check out our process page for an overview of what it's like to design & build a home with us!
Download our Custom Home Questionnaire to start dreaming on paper!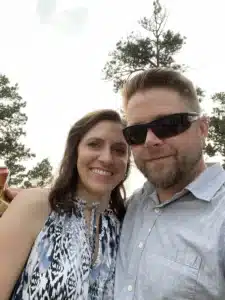 About The Author - Phil Jung
Phil Jung is one of the founders of Elk Ridge Custom Homes. He has 30+ years of construction and design experience and is the Architectural Designer for the firm.